Daimler DS420 Owner's Manual 1038/1 (1974)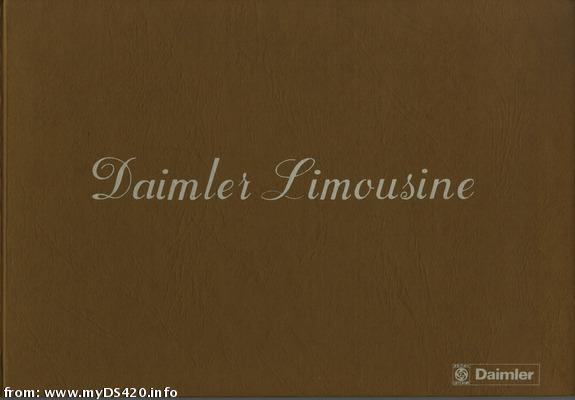 This is the fourth version of the Owner's Manual (Operating, Maintenance and Service Handbook) for the DS420. It was published in 1974, after the change to the Borg Warner model 12 gearbox. This handbook explicitly states that it serves the cars from chassis number 1M2408 (LHD: 1M20087) and engine No. 7M2503 onward.
The cover, shown above, looks similar to the cover of the previous version E1017/3 (1972). It has the same hard cover style, but its size is about 1 cm. smaller in both directions (21.5×15.5 cm). Still older is E1017/1 (1969).
The most visible changes over the previous Owner's Manual E1017/3 (1972) are:
The next edition of the Owner's Manual in my collection is the red covered publication number AKM8090 (1st Ed) from 1980. Still later are AKM8090-2 (1983), AKM8090-3 (1987) and the very last one AKM8090-4 (1989),
If you want to start browsing through this 1974 manual (74 pp.) from the first page on, click Here.
The following list is an expanded version of the table of contents of the manual: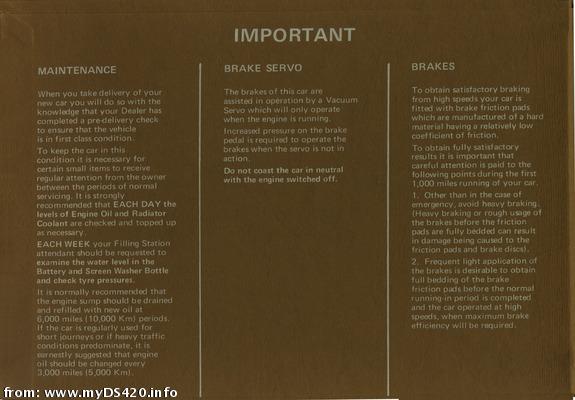 ---
Back to the index

page.