Daimler DS420 Owner's Manual 1017/1 (1968)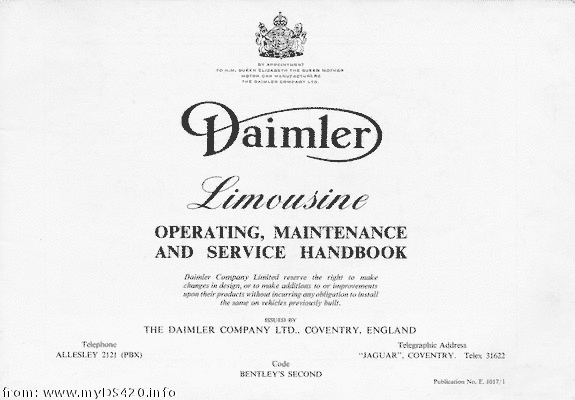 This publication 1017/1 is the oldest Owner's Manual (Operating, Maintenance and Service Handbook) for the DS420. Typical items which show the early version of the car are the dashboard clock with adjustment-dial at the front (p.1), the form of the armrest in the passenger compartment (p.23), the form of the engine air filter (p.34), and the form of the interior light in the driver's compartment (p.69). The next version (on this web site) 1017/3 (see it here) is from 1972.
There has been a 1017/2 edition of this handbook. It is basically the same as the 1017/1 shown here. Major differences are: one extra page on the new ignition & steering lock, introduction of a second type of recommended tyres (Dunlop HR15SP14), an extra page on the new air conditioning, and a few notes on the introduction of two lower compression engines (7:1 and 8:1) next to the 9:1 engine. In later documentation these are rebaptized: Low, Standard, and High compression.
If you want to start browsing through this manual (85 pp.) from the first page on, click Here.
The following list is an expanded version of the table of contents of the manual: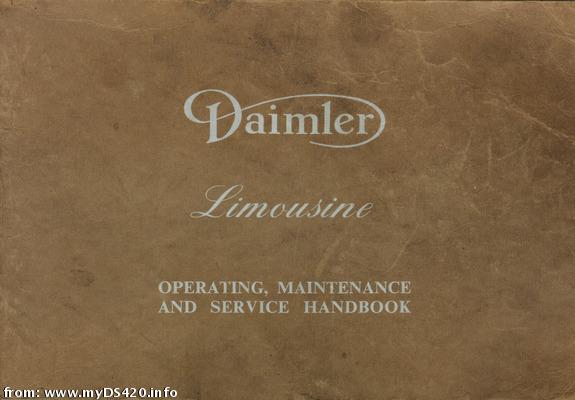 ---
Back to the index

page.