Daimler DS420 Magazine articles (non English) 1994-2012
This web page shows various magazine articles in French, Dutch, German, and other non-English languages. They are shown in chronological order from 1994-2012. Other web pages shows non-English magazine articles from 1968-1993 and 2013-present. Also, there are parallel web pages with English language articles 1968-1993, 1994-2012 and 2013-present.
Click on a page to obtain a large, readable view.
Daimler Limousine, God Save the Queen
Author: Marc Joly
Magazine: British Cars
Date of publication: (No.18), Dec/Jan 1995
Language: French

Belgian license plate ZCH195, but it also carries a Monaco (MC) sticker on the back.
Lichter der Nacht
Author: Bernd Woytal
Magazine: Motor Klassik
Date of publication: Jan. 1996
Language: German

Note that this car, HG-JD40, already appeared in a 1990 magazine article shown on the page with earlier articles. It also shows in the next article.
Mothers Finest
Author: Bernd Stegemann
Magazine: Auto Motor und Sport
Date of publication: (No. 13) 14 June 1996
Language: German
Magazine: Autopilot
Authors: Alexander Novikov, Dmitri Gronskiy
Photos: Dmitri Novokreshchenov
Date of publication: December 1998
Language: Russian

The title translates to: "History of the disease".

The article features car 2119GY33

This article was contributed by Muslim Gedygushev from Moscow.
See the photo gallery of his own DS420 limousine here.
Londra - Bergamo Express
Author: Fulvio Zucco
Magazine: Ruote Classiche
Date of publication: (No.151) June 2001
Language: Italian
Featuring car CYJ739Y: Italian owned, with British license? The car was put up for sale almost immediately after this article was published, which triggered a few picky comments from the readers of this magazine.
Daimler DS 420 Limousine. L'ultime douairière
Magazine: Un Siècle d'Automobiles (Hachette)
Date of publication: (#110), 24/10/2003
Language: French

A run-of-the-mill article, no original photographs, all standard information.
There's a bloody hole in your car'
Author: Hans Lubberding
Magazine: British Car
Date of publication: June 2004
Language: Dutch

This article features the limo 92-DD-JH (car 1M2887) of Ben Kolvenbach from Beneden Leeuwen in The Netherlands. Ben runs a garage specialised in the maintenance of classic Jaguars, and has built himself the reputation of being "the best address in The Netherlands". He maintains my limos too.
1st row: Hi-class car, Daimler DS420'1987
Magazine: Hi-class
Date of publication: vol 24, No. 252, 2006
2nd row: Daimler DS420
Magazine: Thailand Classic Cycle - Car
3rd row: Daimler DS420
Magazine: Thaidriver magazine

Although the majority of our website-visitors will not be able
to read these texts in Thai language, the illustrations with these articles,
showing Pravut Kanchanawat from Bangkok, Thailand, look good.
More information is on Mr. Kanchanawat's Cars&Owners page
of this website.
«Sir, ich denke, ihr Auto passt nicht auf unsere Parkfelder»
Author: Zoran Mitrović
Magazine: Automobil Revue (Switzerland)
Date of publication: No. 29, 16. juli 2008
Language: German

Zoran Mitrović from Bern in Switzerland describes how he bought a DS420 from Zenith Classics in Manchester, and drove it home.

He also submitted a huge amount of photos from the nut and bolt restoration of his DS420. They were divided over three photo galleries: (I) before the restoration, (II) the actual restoration [Warning: 30Mb thumbnail gallery] and (III) the finished result.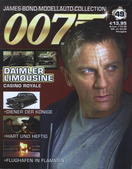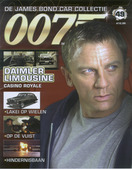 The British publisher GE Fabbri devoted issue No. 49 of its popular fortnightly "James Bond Car Collection" magazine to the Daimler DS420 as a James Bond movie car. The magazine came with a diecast 1:43 scale model made by Universal Hobbies in China. The French edition appeared in November 2008, although the magazine itself bears no date. The German edition was published in November 2009, and the Dutch version early February 2010. The UK edition of this issue appeared in November 2008, one or two weeks before the French version.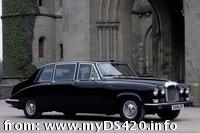 I have heard of a version in Finnish language, and one for the Brasil market (which I assume will be in Portuguese), but I have not been able to obtain copies of these, nor do I know their publication schedule.
The magazine has 16 pages of which 8 have DS420 coverage, mainly photographic. Several parts of the text seem to have been taken from an older version of the Wikipedia entry on the DS420, including several inaccuracies that were present there (and have been corrected since). Jaguar press photo DA1321 in full colour is used as the centerfold image. See also: here

His Royal Vastness
Author: Jeroen Booij

Laatste Mijl in Stijl
Author: Mike Raanhuis

Magazine: Great British Cars
(The Netherlands)
Date of publication: No. 3 -2011
Language: Dutch


The March 2011 edition of the Dutch language magazine Great British Cars devoted two different articles to the DS420: one about Ben Kolvenbach's limo (now registered 30-YB-93), and one about the hearse in use by funeral company Kramer (registered DM-38-58) Both are within a few dozen miles of my home town. I have had the occasion to drive both cars myself!
De laatste rit
Author: Aart van der Haagen

Magazine:
Klassiek & Techniek
(The Netherlands)
Date of publication:
September 2011
Language: Dutch
Daimler Limousine DS 420 1978
Le monde du Silence
Author: Thomas Riaud
Magazine: Rétroviseur
Date of publication: No. 284, Décembre 2012
Language: French

This article is a mixture of Wikipedia knowledge
combined with a straightforward driving experience.
Regrettably, the author made no effort to research the DS420
as it had its place on the French market when new.
The car in this article is a RHD one, registered 560EGW78.
The title translates to "The world of silence".
---
To the page with earlier articles (1968-1993) or later articles (2013-present) or back to the index

page.