Daimler DS420 Magazine articles (non English) 1968-1993
This web page shows various magazine articles in French, Dutch, German, and other non-English languages. They are shown in chronological order from 1968-1993. Other web pages shows non-English magazine articles from 1994-2012 and 2013-present. Also, there are parallel web pages with English language articles 1968-1993, 1994-2012 and 2013-present.
Click on a page to obtain a large, readable view.
Nieuwe Daimler Limousine
Magazine: Autokampioen
Date of publication: (#24), 15 juni 1968
Language: Dutch

This article follows the text from the 1968 Press Release quite closely.

Does the engine on page 2 (click here to enlarge it) really look like an XK engine?
BLMC's prestigewagen
Magazine: Het Vrije Volk
Date of publication: 27 juni 1968
Language: Dutch

The Dutch daily newspaper "Het Vrije Volk" published this article on June 27th, 1968, which was three weeks after the initial press presentation in London. As in the article here-above, the photos and text are derived from the 1968 Press Release.

Finding this clipping was a big surprise, especially since it took until November 1970 before the first DS420 was sold to the Netherlands. During the entire production span that imported car was only followed by less than a handful others.
Daimler Limousine
Author: Nico de Jong
Magazine: Auto Visie
Date of publication: (#26), 20 december 1975
Language: Dutch

The car features car SHP292N, which was Jaguar's Royal Household Demonstrator. It is also shown in this English language magazine article.

It is vehicle no. 1M2794, built date Aug 2nd, 1974.
Zeit ist Geld
Magazine: Auto Motor Sport
Date of publication: 7 March 1984
Language: German

This article describes the 1984 Office Car (A930KHP). The title of the article translates to: "Time is money".
We have an entire web page on this exceptional conversion.
Daimler da lavoro
Magazine: Quattroruote
Date of publication: Maggio 1984
Language: Italian

The title: "Daimler for work"; an article on the office car; May 1984
"Home James"
Fahrbericht Daimler Limousine
Author: Wolfgang König
Magazine: Auto Motor Sport
Date of publication: 10/1984
Language: German
This article features the famous office car, to which an entire page elsewhere on this site has been devoted.
Near the end of this article the author writes that the German authorities up till now have banned the DS420 from admittance, because of insufficient free space between driver and steering wheel.
Daimler Limousine
Et s'il n'en reste qu'une
Magazine: Auto Moto Rétro
Date of publication: (#71), July 1986
Language: French

Several pictures in this article show that the car has a rear side window of the wind-down type, i.e. before summer 1972. This is of course a very strange detail for an article published in 1986. However, the introductory text says that, after a career of 18 years, this car will -at last- be distributed in France. These "18 years" are indeed consistent with a publication date of 1968+18=1986.

A remarkable point is on the lower left picture of page 2: the rear windows have no winding handles because they are electrical, but the driver (page 4) has to wind by hand.
Une auto moderne en habit d'autrefois
Magazine: Auto & Prestige
Date of publication: (#2), Aug/Sept 1986
Language: French

The previous French article (Auto Moto Rétro) already discussed the fact that in 1986 the French Jaguar distributor (Axel Vilaseca) decided to bring the limo to the French market. But he also decided that a batch of cars should be equipped without division between driver and passenger. The pictures in this article are from one of those cars. Strange enough, the text in the article nowhere touches upon this special interior, and even describes the non-existent division in some detail.

One of the pictures on the forelast page shows the central gearshift handle in the floor, which is for the GM400 gearbox. But the technical specs on the same page talk about a Borg Warner gearbox (which was discontinued several years earlier). All this -and more- suggests that the text of the article is unrelated to the car (709FMF75) in the illustrations.
Daimler Limousine
Une Journée Particulière
Author: Jean-Claude Letrou
Magazine: l'Automobile
Date of publication: (Nº488), Février 1987
Language: French

More information on the French batch of divisionless cars (some 20 were sold) can be found in the book Jaguar, les berlines by Dominique Pagneux, ed. E.T.A.I. To suit the local taste, almost all cars got two-colour paint: dark grey over light grey, or a beautiful champagne-rose over light goldish brown.

The most interesting photos from the DS420 pages in that book appear in this magazine article as well (photos by François Lemeunier). The photos in the book have the license number shielded off, but in this article it is clearly shown: 1882WWH92.
La Jaguar en Robe du Soir
Author: Michel Leroux
Magazine: Auto Références
Date of publication: (Nº 2), July-August 1989
Language: French
The article features car 2409YP95. The title translates to "The Jaguar in evening gown".
Der Grosse Daimler: nur mit Chauffeur
Test im Fond
Author: Paul Simsa
Magazine: MOT
Date of publication: 16/1990
Language: German

The article features Germany-registered car HG-JD40.

The same car probably figured in this 2007 magazine article in German language. Same article published here in 2010 (Daimler now registered MTK-JD700), with photos.
L'ultima regina
Author: Alex Roggero
Magazine: Auto Capital
Date of publication:
N.9, September 1990
Language: Italian

The article features a UK-registered car A200FLR,
and has photos of cars B94DOF and F932RHP.
Fährt der Lord bald Ford?
Vergleich - Chauffeurs-Limousinen
Daimler Limousine gegen Coleman Milne
Author: Christian Wüst
Magazine: Auto Bild
Date of publication: 22 December 1990
Language: German
Brits tot het bittere einde
Author: Christian Wüst, Lex Vranken
Magazine: AutoWeek
Date of publication: (#8), Feb. 22, 1991
Language: Dutch

The AutoWeek magazine bought the rights for the German article, but published a slightly different main photo. Also, the text was rewritten to eliminate all references to Coleman Milne.

The small article (left) is from the AutoWeek of Dec. 21-28 1990, and announces the end of the production for the Limousine. Note that the photo is a colour version of press photo DA1321, shown on the Press Photographs page of this web site.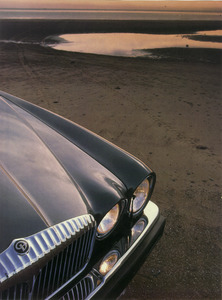 Am Ende eines guten Tages
Author: Georg Kacher
Magazine: Auto Revue (Österreich/Austria)
Date of publication: 3/1993
Language: German
Two month before the publication of this article, the same author (and photographer) wrote an article on the same theme in the English language magazine Car. That article features the same demo limo (D800FHP) but has a totally different text. See it here. This particular limousine was fitted with a very special interior, for the use of Sir John Egan, Jaguar's CEO. When the article was written this car was in the collection of the Jaguar Daimler Heritage Trust.
Strange enough, this article states that the passengers on the occasional seats travel "opposite to the direction of driving". But this car has the standard forward facing occasional seats, as shown on the photo of page 3.
Also, the photographer managed (on page 3) to change the colour of the interior upholstery from bright red to yellow. See the actual interior of that car here.
---
To the page with later articles (1994-2012) or later articles (2013-present) or back to the index

page.